Energy Healing is a general term for any number of different healing Modalities that work with energy systems (chakras) of the body, to stimulate unblock or promote bodies own natural healing processes. There are lots of like Quantum Touch, EFT, pranic healing, theta healing, emotion code and many more,  but Reiki is probably the best-known one.
Reiki is an energy healing technique where the healer channels universal life force energy to the healee through distance healing. Reiki promotes healing by activating our own internal healing system. Apart from this Reiki clams & soothes the mind, helps us with each & kind of situation. This gentle uplifting energy healing technique helps us with overall well-being.
Simple understanding of Reiki-
Like ancient days, the body is well capable to heal itself on its own, but "imbalances" obstructs the natural capabilities of auto-healing of the body system. "Reiki" help to clear off that imbalance to get back the body's natural healing phenomena.
Is it some kind of religious practice?
Reiki or Energy Healing is to awaken the inner power with the help of universal energy, far from any religious practices.
There is a thick line of difference between Spirituality and Religion.
It helps to reestablish the natural healing power as we were created by the universe. By a very simple process of removing energy blockages in energy centres and normalising the flow of energy.
Is Reiki, some kind of Meditation?​
Reiki and meditation can serve as ideal complements to each other.
Meditation has to be done by own self for a longer period of time to get the benefit.
Reiki can be passed on by any master from a distance for an immediate positive effect on any specific problem.
Health benefits
Primary health benefit is deep relaxation, help people cope with difficulties, relieve emotional stress, and improve overall wellbeing.
Reiki assist in the body's natural healing processes and help to treat:
Any kind of Cancer, Heart disease, any level of anxiety, all kind of depression , Chronic Pain & disease, Infertility, Neurodegenerative disorders, Autism, Almost all kind of physical and Emotional disorders.
IS IT AN ALTERNATIVE FOR ANY PROFESSIONAL MEDICAL TREATMENT? ​
No, Reiki works alongside other medical and therapeutic techniques.
It will help to get the desired result of the treatment sooner than normal.
Reiki speeds up the natural healing process after surgery or illness.
Who can get the benefit of it?
Anyone can get the Reiki done by some Reiki Practitioners or can also be practised by ownself.
Who can't get the benefit of it?
Life Force Energy or Reiki is for each and every creature on planet. 
I don't believe it, will it work on me?​
Yes, Of course. 
Energy always works for each and every one. 
it is science, not a belief system.  
Can I get it done for my loved once?
Yes, you can seek healing for your loved ones from any good Reiki Master or Reiki Grand-Master.
Interesting, I want to know more about Sanjukta, the Reiki Grand Master - Healer & Teacher.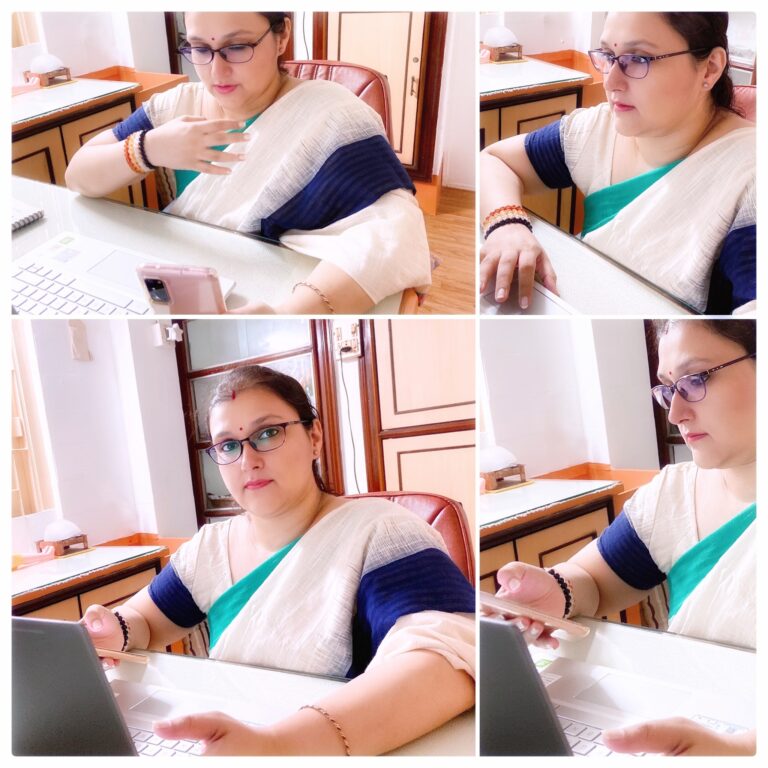 Sanjukta Banerjee is from 'The City of Joy', who has been passionate about Dance and Painting. She did her early schooling at Holy Child School and Masters from M S Ramaiah College Bangalore. Her roots have been very strong as she belongs to a family where love and respect were the core of it so she came back to family and joined some big corporates in the Health Care and Cosmetics industries.

But due to her caring nature since her childhood, she was always wanted to do good for people around her even for strangers. In early 2012 she got introduced to Reiki by her relatives from Kolkata. In the year 2012, she did her First Reiki Level 1st Degree & Level 2nd Degree from Kolkata and later she did her Reiki Master Degree from her mentor in Mumbai. She has done many more courses from different parts of the world and finally, she becomes a REIKI Grand Master from her mentor from Texas, USA.

There-after she did continue learning many modalities of Reiki and Alternative Healing techniques like Karuna Reiki, Karmic Reiki, Angle Reiki, Fairy Realam Reiki, Violet Flame Reiki, Money Reiki, Seraphim Reiki, Crystal Therapy, Magnified Healing, EFT, Ethereal Crystal, Candle Therapy, Herbs Magic, Sigil Magic, Angle Therapy, Knot Magic and also Tarot Reading.

Due to a lack of awareness of Reiki, many of her family members and friends were a bit sceptical about her Reiki Practice for wellness, especially her college friend turned husband was not at all convinced till the time he got some magical effects for his office problems.

Now she is also into Reiki fully and has made Reiki her daily routine for a much more positive life. Sanjukta's journey of healing started with her family members curing many physical, emotional problems.

Then she started applying her healing on many clients with different modalities depending on their situation in India, UK & the USA.

These alternative healing processes have been so successful and effective that clients always give references to their relatives and friends. Now she finally wanted to extend this magical effects of Reiki and Alternative Energy Healing by starting her own Institute named:

THE RAINBOW MIRACLE
- Eternal Happiness-

Sanjukta also plans to write a book one day relating to Reiki and how it can minimise the suffering of all creatures and help to build a better and peaceful world.
What our clients say about us !!!
Hi. I am Binayak and this is my story. I have been into the business for the last 16 years when I came across rainbow healing and Sanjukta. I have been fit and strong but like it is said that mental strength is the main strength and I was clearly lagging behind in this field.

I looked happy but inside I was stressed and restless. I didn't know what was wrong with me. Happy family, good income, and lifestyle yet a kind of restlessness inside.

At times I couldn't sleep well and it felt there is still something missing in life. I grew angry with small matters and started yelling at everyone.

My wife Anindita told me to get healing done but I didn't believe in this at all.

But just because I thought that there is no harm in trying something good that will cause me no harm if it doesn't do good also I tried it.

I met Sanjukta and found her a very simple humble lady.

I sat for the session without much faith in the healing.

During the process, I continued to be restless though I couldn't be agitated on her due to basic courtesy.

I didn't feel anything special but felt calm immediately after the healing session.

As days passed by I grew calmer and didn't even realize that I was less stressed.
Within no time I felt better and the best part is I didn't realize I was getting better with each day.

My wife started saying I've become cool and calm like never before.

Soon I started to sleep well and then I contacted her for another session. At that time I was traveling to Australia for 10 days. She said it can be done easily over long distances as she will do the healing for me.

But then I was more serious this time. On the entire trip, I followed her easy instructions and she was all throughout in touch online.

This was followed by more sessions and today I owe all my cool-headedness and stress less lifestyle due to Sanjukta. She has become our best family friend now.

We consult her even from long distances for tips and good vibes.

Yes, this woman is full of good vibes and healing touch.

Thanks a lot. God bless you and ever grateful.

Love and Regards always to you guys.
Join Hundreds of Happy People
Please contact us if you have any questions or would like more information.