Often you may have found yourself envying the glamorous lifestyle of a celebrity. The glamour, the limelight, the money, everything seems unattainable for a normal individual. The definition of celebrity is quite subjective. A person with a name and fame and a thriving social presence is usually referred to as a celebrity. Now, some people may have high net worth but completely stay hidden from the public eye. Whatever the reason may be, we tend to seek the dream life that celebrities or elite personalities lead. But it's all that you see outside, you are aloof from the struggles, anxiety, depression and stress are hidden behind that glitz and glam.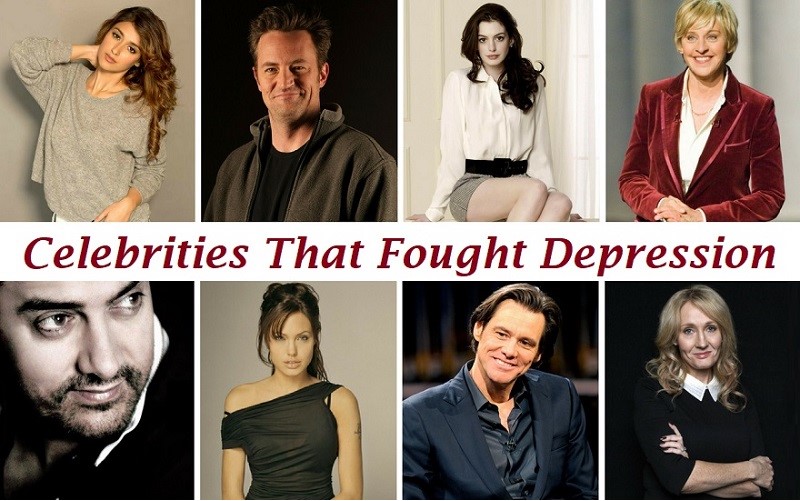 Celebrities who went vocal about mental health
Is it hard for you to believe that a celebrity who has everything may suffer from depression or anxiety? The reasons may not be surprising, in fact, the reasons might be similar to yours. The modern lifestyle demands abundance of time from us. Even 24 hours feel less to complete all the pending tasks of the day. So, you can apprehend the pressure that these famous personalities have to undergo to keep them relevant as per the trends.
Almost 3.6% of the entire world's population reportedly has anxiety disorders. Besides, 3.8% or 280 million people are critically affected by depression. It has been no secret that even the A-list faces of Hollywood and Bollywood have expressed their struggles with this ongoing battle of mental health. Be it Lady Gaga, Selena Gomez, Deepika Padukone or the King of Bollywood, Shahrukh Khan, even the strongest person of the 21st century, Dwayne Johnson, The Rock, none has escaped the effects of mental health.
So what reasons may contribute to the deterioration of their mental health? Some of the most common factors are:
The need of having a constant flow of work
Unbearable pressure in work
Lack of sleep and self-care
The stress about managing money and finances
To main the status in the society
Maintaining a healthy personal life; love, relationship, parents, family, friends and kids
Finding time for self
Does this mean that these celebs are heavily influenced by antidepressants? Of course, they do take medical help and it is always recommended to visit a licensed professional. But the side effects of these antidepressants can cost their work and their health in the long term.
What are the probable threats you may ask?
As stats claim, the effects can be and the possibility:
Sexual problems (72%)
Heavy increase in weight gain (65%)
Emotionally not available (65%)
Cannot feel the real self (54%)
Lacks positive emotions and feelings (46%)
Addiction (43%)
Not having empathy or sympathy towards other people (36%)
Suicidal tendencies (36%)
Energy Healing is the Perfect Solution
Now, what can be a safer and clean alternative that can bring peace to your life without pushing you towards the critical side effects?
A lot of celebrities are restoring the organic healing method in their life. After travelling the world and learning more about the natural process of energy healing, the riches of this country were introduced to the power of Reiki healing. There are certified Reiki healing centres in the U.S. and U.K. It lends the celebs a perspective that how advanced these countries are.
How are celebrities benefited by Reiki Healing?
The benefits of Reiki have also been stated by top Hollywood celebrities namely Gwen Stefani, Dr OZ and also Christina Aguilera. Besides, many other famous names do trust the process of Reiki but they conduct these sessions in full privacy. So, there is no denial of the fact that energy healing is existing amongst us and it is more than just effective, it's like a breath of fresh air.
Frees from emotional, professional and personal stress
Mood upliftment
Eliminates anxiety and depression from life
Financial growth
Success in the industry
Fixes relationship issues
Helps with physical problems
Balance in life and many other
100% privacy with distance healing
The best feature about energy healing is that you do not need to be physically present to feel the difference. You can continue your usual life and Reiki will be showing its positive impact.
Reiki makes distance healing possible and 100% effective!
The Rainbow Miracle is a top energy healing institution that cures and nurtures the body and soul to help individuals attain the best of themselves. We have leading and globally known practitioners in our team. Besides, we have a diverse clientele spread around different corners of the world. Our services are exclusive and you need to have firsthand experience for starting a healthy and beautiful life. So, trust the energy of the universe to commence on a holistic path.
Still any confusion? Let's have a discussion over call or Whatsapp.