Having difficulty concentrating on your studies? Unsure about how to secure your dream job? Want to overcome your job-related insecurities? Well, when it comes to progressing in life regarding these aspects with clarity of purpose while feeling good about your own self, Reiki is a suitable energy-healing method to fly as a high-achiever. It's very alarming that about 15 millions of Indians lost their jobs during August 2021 after the Covid 2nd wave hit India.
Whether it's a new job you're seeking, wishing for resolving of troubles in your existing job or dreaming of better grades, Reiki healing can be a reliable solution to invite success and prosperity into your life. Connect with a visionary Reiki healer linked to a famous Reiki healing institute to restore your concentration for improving in academics or perhaps, making the right decisions for growth in your career or increasing profits in your business.
Let's dig deeper about Reiki's assistance in helping you regain your mental focus for climbing the ladder of success smoothly in your studies and career.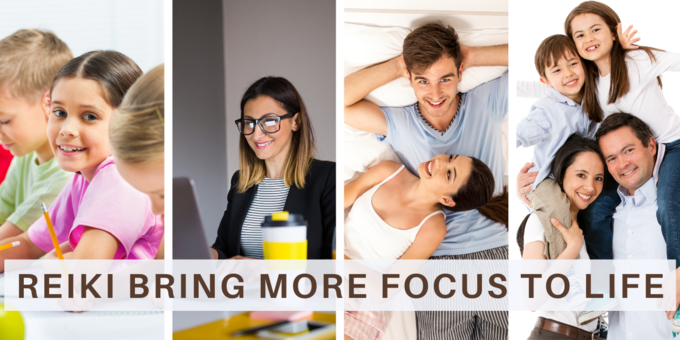 Uplifts your confidence
Are poor grades making you feel worthless? Are you ashamed of having lost your job? When it comes to challenges faced in the studies or work front, you may tend to experience negative feelings such as fear, worry, stress, anxiety, anger, regret, shame, etc. And such heavy emotions can drain your confidence to make you think lowly of yourself, taking away your inner motivation to pursue your goals.
Now, Reiki healing by placement of hand or through distance will help you release these negative emotions and replace them with positive feelings such as trust, self-acceptance, peace, kindness, joy, forgiveness, love, clarity of thinking and confidence. You'll be amazed how boosting of these healthy emotions can rebuild your confidence to make you feel mentally balanced, emotionally cleansed and intellectually heightened. So, once you revive your self-confidence and self-reliance by undergoing Reiki, you'll obtain focus and attention to be able to study sincerely or figure out your career prospective peacefully without feeling agitated, tensed or stressed out. It's been proven that this quiet and confident mind state that Reiki establishes in those going through this rejuvenating therapy is the key to scoring high in examinations or cracking job interviews.
Instils freshness and creativity in your mind
As channelling of universal life force within you elevates your vibrations, you'll feel lighter and more relaxed, achieving mental and emotional stability. Keeping your vibrations aligned with that of your desires and the universe is Reiki's magic in flaring up your innovation and drive so that you're inspired to study your subjects attentively or plan your career moves decisively. This way, energy-healing can make you internally balanced and mentally serene to fuel up your creativity, imagination and resourcefulness for progressing in studies, increasing business profits or attaining your dream job. You can freely make use of your creative thoughts and intuition to take the initiative of keeping your educational or career-oriented purpose transparently defined without any confusion.
Thus, Reiki is a wonderful means to elevate your body, mind, spirit and soul to make your life's true purpose become clearer to you. And this gives it the reputation of being a highly useful process for retaining focus, concentration and dedication for you to study properly or come across excellent job opportunities to earn financial stability, peace of mind and success. It's shocking that 7.9% is India's unemployment rate on a national scale, covering all spheres of work.
From increasing marks to increasing finances, nothing beats the mind-uplifting ability of Reiki treatment to recover your mind's power, resilience and strength for ultimately embracing glory and prosperity successfully. Contact a trusted Reiki healer for active support in the study or job front to score higher in examinations, build your desired profession or bag a better job eventually to fulfil your life's motto!